Evansville Toyota Dealer Reviews the 2016 Yaris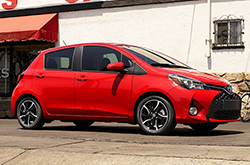 The spunky 2016 Toyota Yaris is a great option for buyers in search of a reliable subcompact car. It offers everything from a spacious interior and an Entune audio system to a quiet cabin and navigations. If that's not enough to entice you, the Yaris is also the only car in its segment that comes equipped with either three or five doors, allowing buyers to choose which option better suits their needs. Primarily unchanged for the new model year, the latest Yaris is available with two new color combinations that make it stand out from the competition. You can read about each one in our 2016 Toyota Yaris review below and acquire details about other options offered on the latest model.
The Toyota Yaris' brand-new color combinations serve as a nod to its European roots. The car was designed in Toyota's design studio in the South of France and the automaker has added certain Euro styling to the vehicle in order to celebrate its heritage. For 2016, you can now get the 2016 Toyota Yaris in Evansville with a Black Sand Pearl roof and Barcelona color combo or a Black Sand Pearl roof and Crushed Ice combo. This unique touch adds a little flair to the subcompact and gives it an eccentric appearance buyers will love.
Equipped with a 1.5L four-cylinder engine, delivering 106 horsepower at 6,000 rpm and 103 lb.-ft. of torque at 4,200 rpm, the 2016 Toyota Yaris is ready to take on the open road. Paired with a standard five-speed manual transmission or the available four-speed automatic transmission, the powerplant is able to produce outstanding EPA ratings. With the manual transmission, the subcompact delivers an EPA-estimated 33 mpg combined, 30 city and 37 highway, while the automatic helps produce 32 mpg combined, 30 city and 36 highway. These numbers make the Yaris one of the most fuel-efficient models in its class and an excellent choice for buyers who want save money on gas.
For further info about the latest Yaris model and its offerings, continue browsing our 2016 Toyota Yaris review.