When was the last time you got your vehicle's brakes inspected? If it's been a while, or you've put on some serious mileage since your last service appointment, your vehicle may be due for routine brake maintenance.
If you're wondering "where can I find good, reliable brake repair near me?" then look no further than Kenny Kent Toyota. Our state-of-the-art service center is equipped to diagnose and repair any brake problem. Plus, scheduling an appointment has never been easier thanks to our handy dandy online Toyota service form.
Why Do I Need to Get My Brakes Checked?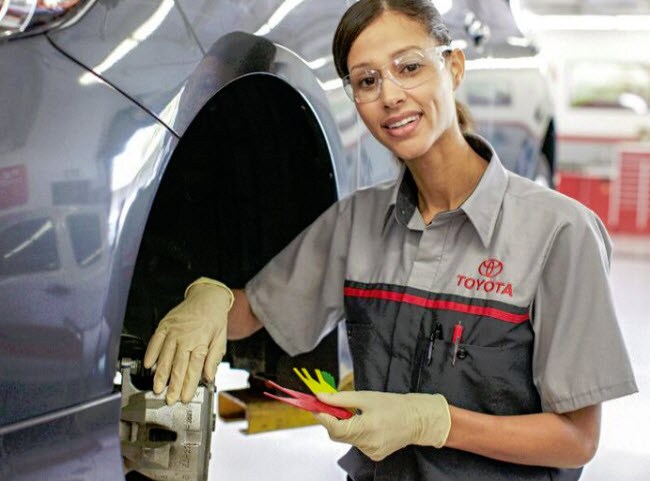 Brakes are the most important safety feature on your vehicle, and the one that you use most often. Naturally, brakes are subject to wear, which can cause a variety of issues with your vehicle if not addressed promptly. From causing additional damage to reducing the effectiveness of your braking system, declining brake health can be dangerous and is not something to take lightly.
How Do I Know if My Brakes Need Service?
At Kenny Kent Toyota, we recommend that you have your Toyota brakes serviced every 12,000 miles/1-year, even if you aren't experiencing any issues. This will ensure that your brakes are in top-notch condition and ready for that pesky Evansville traffic. It's also crucial to take action right away if you experience any changes with your brakes. Here are some common symptoms of wear that mean it's time to visit our Toyota service center:
The brake warning light is illuminated
A screeching or grinding noise occurs when braking
The vehicle vibrates when the brake pedal is activated
The brake pedal feels spongy or loose
It takes longer and requires more pressure to brake
Why Choose Kenny Kent Toyota for My Brake Service Appointment?
Our highly rated auto repair shop is staffed by expert technicians who are certified to perform any brake repair your vehicle may require. Whether you need new Toyota brake pads, rotor and drum resurfacing, a brake fluid exchange or another brake maintenance service, we offer expert service at a great cost.
Before you come in for your appointment, be sure to browse our service specials online. We offer brake service coupons to help get you an affordable price for our quality service!