Kenny Kent Toyota Previews the New Sequoia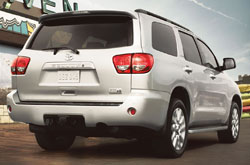 The full-size 2015 Toyota Sequoia is available in three models this year: SR5, Limited and Platinum. Boasting room for up to eight passengers, the SUV has enough space to haul an entire family and transport their luggage. The model also produces an excellent ride and top-notch towing throughout the lineup. Read our 2015 Toyota Sequoia review to learn more about each of these qualities and discover more details about the SUV's extensive features.
One of the greatest advantages of owning a Toyota Sequoia is its interior space. The SUV comes with fold-down second- and third-row seating, and offers 120.1 cubic feet of cargo space when they're folded down. This allows owners to fit items up to 11 feet into the back of the car without any problems. In addition to transporting items, the 2015 Toyota Sequoia in Evansville can also tow up to 7,400 pounds. It comes with a towing hitch that is fit for hauling a trailer or a boat, making the SUV perfect for both cross-country adventures and day trips to the lake. Specific functions such as Trailer Sway Control and Tow/Haul modes also ensure that all items being towed are fully supported.
Powering the Sequoia and backing its towing capabilities is a 381-horsepower iForce DOHC 5.7L V-8 engine. The component delivers up to 401 lb.-ft. of torque and is available on either two-wheel- or four-wheel-drive models. A six-speed automatic transmission sits alongside the engine, which features the aforementioned Tow/Haul modes that support all items being towed. When each of these features work together they help produce excellent performance that makes the 2015 Toyota Sequoia in Evansville one of the top SUVs on the market.
For additional information about the new Sequoia and its amenities, keep browsing our 2015 Toyota Sequoia review below.