Toyota Land Cruiser Review for 2015 Model Year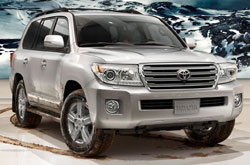 For over 50 years the Toyota Land Cruiser has been carving up mountain trails and its back again for 2015 to show the world why it's one of the best full-size SUVs on the market. Equipped with a collection of advanced mechanics that cater to off-roading, the 2015 Toyota Land Cruiser can handle just about anything. Its collection of first-class technologies and amenities also appeal to modern drivers and increase luxury across the lineup. To find out more details about these features and others, check out our 2015 Toyota Land Cruiser review for complete information.
Complete with a four-wheel-drive platform and numerous chassis controls, the 2015 Toyota Land Cruiser in Evansville is ready for an off-roading adventure. It comes with excellent features, such as CRAWL Control, which help regulate engine speed when climbing rough terrain, Active Traction Control, which reduces wheel spin, and Off-Road Turn Assist, which tightens the SUV's turning radius. A 5.7L DOHC V-8 engine, delivering 381 horsepower and 401 lb.-ft. of torque, also comes equipped on the Land Cruiser, and is matched with a six-speed automatic transmission. It supports the SUV's 8,500-pound towing capacity and overall capabilities.
Fully equipped, the 2015 Toyota Land Cruiser in Evansville comes standard with a wealth of features. The seats are trimmed in leather, there's a power moonroof and the steering wheel comes with mounted audio controls. Additionally, the SUV sports keyless entry, push-button start, a security system and four-zone automatic climate control. Premium Entune Audio is also outfitted within the SUV, which offers Bluetooth, HD Radio, SiriusXM Satellite Radio, iPod connectivity, iTunes tagging and navigation. These functions enhance the driving experience for all drivers and passengers.
Want to find out more information about the Land Cruiser? Keep reading our 2015 Toyota Land Cruiser review for exclusive details, specs and photos.