2014 Toyota Tacoma Quick Specs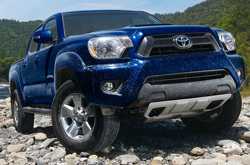 We're sure that the Tacoma is right for you. That's why we dare you to compare Toyota's most current model side-by-side with the 2014 Ford Ranger, Chevrolet Colorado, Dodge Dakota, Nissan Frontier and the Honda Ridgeline. If the Tacoma's competitive MSRP and leading-edge onboard technologies don't prove to you that it's the best vehicle for your needs, we're sure its eye-catching exterior design will seal the deal. Compare its price to the vehicles in its class and you'll see that it's a remarkable value, which is one of the main reasons why so many Evansville drivers select it. Find out more useful facts in our bullet list under this text!
2014 Toyota Tacoma Body Style(s): Truck
2014 Toyota Tacoma Doors: 2-door
2014 Toyota Tacoma MPG: 21 city / 25 highway
2014 Toyota Tacoma Cargo Space: truck bed cubic feet
2014 Toyota Tacoma MSRP: $17,875
2014 Toyota Tacoma Seats: 3 passengers
2014 Toyota Tacoma 0-60 MPH in 9.3 seconds
2014 Toyota Tacoma Colors: Silver Streak Mica, Nautical Blue, Barcelona Red, etc...