Toyota Sequoia Review for 2013 Model Year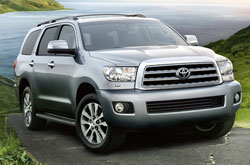 Buying a car takes patience, research and a little help along the way! That's why Kenny Kent Toyota provides a review of the 2013 Sequoia. How did Kenny Kent Toyota manage to gather this information? By speaking to the finest automotive writers in the field. Each article is brimming with helpful material and specs- everything you need to make versed decisions on your next vehicle purchase. We wish you the best of luck in your search for the perfect Toyota!
2013 Toyota Sequoia Features Video
2013 Toyota Sequoia Quick Specs
By examining the 2013 Toyota Sequoia against the 2013 Chevrolet Traverse, Buick Enclave, Infiniti QX56, Ford Expedition and the GMC Yukon, and you can notice that the Sequoia beats out those autos in numerous zones. Check out the hightlights below.
2013 Toyota Sequoia Colors: Black, Pyrite Mica, Super White, etc...
2013 Toyota Sequoia Cargo Space: 18.9 cubic feet
2013 Toyota Sequoia Seats: 7 passengers
2013 Toyota Sequoia Body Style(s): SUV
2013 Toyota Sequoia 0-60 MPH in 7 seconds
2013 Toyota Sequoia MPG: 13 city / 18 highway
2013 Toyota Sequoia MSRP: $41,955
New Features Available on the Toyota Sequoia in Evansville
2013 Toyota Sequoia: Powertrain Info & Engine Specs
Learn About Our Toyota Auto Repair Center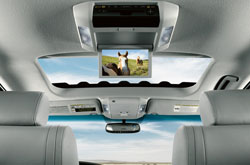 No mom and pop car repair sites in Evansville, Indiana offer Kenny Kent Toyota's wonderful combination of certified Toyota Sequoia service techs, gratis warranties on all jobs and Toyota OEM parts. Don't pay no attention to caring for your Toyota. Turn to Kenny Kent Toyota's well-versed mechanics. We can take care of a chore as simplistic as an oil change, or handle difficult car service and repairs like Toyota timing belt replacements, transmission rebuilds, and strut and shock repairs. For quality Toyota repair in Evansville, drive your Sequoia to Kenny Kent Toyota, where you can anticipate receiving exemplary service. Get insane savings - before you make a trip to our repair unit, bring a coupon. Click the link underneath this text!
Contact our service center day or night using our online form