2013 Prius Research and Review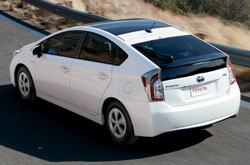 Kenny Kent Toyota your source for 2013 Prius research and reviews. Kenny Kent Toyota is a premier Toyota retailer in Evansville for a reason. We provide you with reviews written by automotive writers at the height of their craft. To make familiar decisions when it comes to your next Toyota Prius purchase, don't guess! Each article is overloaded with material and Prius features in way that's easy to understand. Does the Prius have what it takes to be your next Toyota? Continue reading and find out!
Video Review of the Toyota Prius
Compare the Toyota Prius's Specs & Features
Check out the 2013 Toyota Prius next to versus similar autos like the 2013 Honda Insight Hybrid, Ford Fusion Hybrid, Nissan Leaf and the Chevrolet Volt, and you will realize that the 2013 Prius scores higher those vehicles in several areas. See the reasons see why!
2013 Toyota Prius Seats: 5 passengers
2013 Toyota Prius MPG: 51 city / 48 highway
2013 Toyota Prius MSRP: $23,215
2013 Toyota Prius 0-60 MPH in 10.1 seconds
2013 Toyota Prius Colors: Nautical Blue, Barcelona Red, Blizzard Pearl, etc...
2013 Toyota Prius Cargo Space: 21.6 cubic feet
2013 Toyota Prius Body Style(s): Sedan
Features, Trims & Other 2013 Toyota Prius Highlights
Evansville Toyota Prius Owner Warranty Info & Safety
Kenny Kent Toyota's Service Center Is Here for You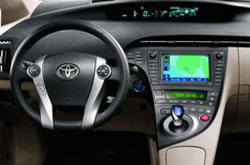 Get genuine factory parts and fantastic workmanship from Toyota technicians at a centralized location that's just a brief spin from your apartment or house. At our Toyota auto repair center in Evansville, we offer this and a extensive warranty on all work! To keep your Toyota in staunch condition, put it in the hands of Kenny Kent Toyota's auto repair old pros. From strenuous duties like shock and strut repair to less tedious work like air filter replacement and simple ordinary oil changes, our Toyota repair men do it all. For bargain, trustworthy Toyota car repair in Evansville, the main place you should take your Prius is Kenny Kent Toyota. Find current service coupons at Kenny Kent Toyota by clicking below this text!
Contact our service center day or night using our online form