Kenny Kent Toyota Shows Off the New Toyota FJ Cruiser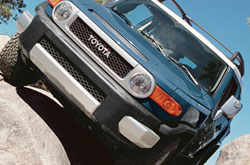 Kenny Kent Toyota is a trusted resource for reviews of the 2013 Toyota FJ Cruiser - scroll down below the video to begin reading. Good FJ Cruiser reviews are hard to find; let the leading Toyota franchise in Evansville put it all in one location for you. As you read this article, you'll see that it is filled with important information on all of the things you'r looking for in the new FJ Cruiser. Kenny Kent Toyota is always available 7 days a week to answer questions you have. Do not hesitate to call us to speak with our FJ Cruiser specialists.
Take a Look inside the Toyota FJ Cruiser
Prominent Specs for the Toyota FJ Cruiser
When comparing the 2013 Toyota FJ Cruiser against the 2013 Nissan Xterra, Chevrolet Tahoe, Dodge Durango, Ford Edge and the Jeep Wrangler, and you'll catch that the FJ Cruiser outperforms those autos in numerous aspects. Look through just a few of the reasons below.
2013 Toyota FJ Cruiser Cargo Space: 27.9 cubic feet
2013 Toyota FJ Cruiser MPG: 16 city / 20 highway
2013 Toyota FJ Cruiser Body Style(s): Midsize SUV
2013 Toyota FJ Cruiser 0-60 MPH in 7.2 seconds
2013 Toyota FJ Cruiser MSRP: $26,880
2013 Toyota FJ Cruiser Seats: 5 passengers
2013 Toyota FJ Cruiser Colors: Army Green, Magma, Calvary Blue, etc...
Get cash for your trade when you purchase a Toyota FJ Cruiser
Notable Amenities on the New 2013 Toyota FJ Cruiser
Get Under the Hood: Engine & Powertrain Specs for the 2013 FJ Cruiser
Your Toyota FJ Cruiser Comes With Built In Peace of Mind
Toyota Auto Repair & Service Information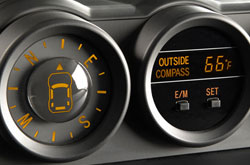 Kenny Kent Toyota auto repair and service in Evansville is just a click away! Your Toyota deserves to be treated right - that means FJ Cruiser factory- trained Toyota technicians, the peace of mind that comes from a 12-month service work warranty and legitimate Toyota parts and accessories. If you avoid getting quality repair work, your Toyota FJ Cruiser's parts might weaken, so get it to the skilled mechanics at Kenny Kent Toyota. Our techs can take on a large array of jobs - from more time consuming stuff like Toyota electronics repair to less trying operations like wiper blade and tire replacement. It's crystal clear - to get cut-rate prices and wizards Toyota repairs, Kenny Kent Toyota should be your headmost choice when choosing a Evansville auto center. The following link is your key to unreal savings. Click now to be lead to to Kenny Kent Toyota's specials.