Take a Look Evansville Toyota Shoppers - the 4Runner has Arrived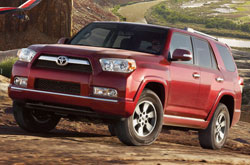 You can find a complete 2013 Toyota 4Runner review below the video. Don't stress out over your next purchase; look to the dominant Toyota dealer in Evansville for thoroughly researched reviews written by industry specialists. We're your Toyota 4Runner dealer; this article will help you learn everything you need to know about the Toyota 4Runner in Evansville. Read on to see if the 2013 4Runner should be parked outside your home.
Video Review of the Toyota 4Runner
Compare the Toyota 4Runner's Specs & Features
Check out the 2013 Toyota 4Runner side-by-side with versus similar autos like the 2013 Hyundai Veracruz, Nissan Pathfinder, Jeep Grand Cherokee, Dodge Durango, Honda Pilot and the Chevrolet Traverse, and you will realize that the 2013 4Runner scores higher those vehicles in gobs areas. Browse the reasons see why!
2013 Toyota 4Runner 0-60 MPH in 6.8 seconds
2013 Toyota 4Runner Colors: Black, Salsa Red, Megnetic Grey, etc...
2013 Toyota 4Runner Cargo Space: 46.3 cubic feet
2013 Toyota 4Runner Seats: 5 passengers
2013 Toyota 4Runner MPG: 17 city / 22 highway
2013 Toyota 4Runner Body Style(s): SUV
2013 Toyota 4Runner MSRP: $31,340
4Runner Engine Options for Evansville Toyota Shoppers
Affordable Toyota Service in Evansville, Indiana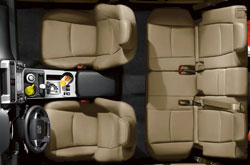 Toyota 4Runner owners won't get the same exceptional factory-trained Toyota mechanics and genuine Toyota parts at a mom and pop service company. But at our Evansville dealership you'll benefit from this consistently, along with the peacefulness that comes with attaining a long-term service warranty. Toyotas in Evansville can take a whipping, so turn to the auto repair gurus in Evansville - Kenny Kent Toyota. We do a large spectrum of services, from simple battery replacement and snappy inspections to more tough jobs such as transmission repair. When electing a place to service your 4Runner, make a positive choice and get it to Kenny Kent Toyota, where you'll get budget pricing on Evansville car service and repair. You can check out coupons online at the succeeding link.