Toyota Transmission Repair and Maintenance in Evansville, IN
Toyotas are widely known as some of the most reliable and longest-lasting cars on the market. It is not uncommon to see a Toyota from the '80s or '90s still going strong in regions of the United States where cars of other makes from the 2000s are considered ancient. But one of the most important and often-overlooked factors in keeping your Toyota on the road for the indefinite future as well as maintaining a high resale value is the car's transmission maintenance regimen.
Transmission maintenance is often overlooked by Toyota owners because it is not typically something that needs to be done on a high-frequency basis. However, this does not mean that the manufacturer's recommended transmission maintenance schedule can be overlooked.
It is extremely important to stick to the schedule that is outlined in the owner's manual or determined by our certified professional technicians. If you are uncertain of how frequently or exactly when you should have your Toyota's transmission serviced and its fluid changed, please contact Kenny Kent Toyota today. Our expert technicians will be able to listen to your unique situation and tailor a plan that ensures the minimum cost and maximum life out of your Toyota's transmission.
When should I get my Toyota's transmission fluid changed?
There is no hard-and-fast answer as to exactly how frequently someone should have their Toyota's transmission serviced. A large number of factors come into play in designing a transmission-service protocol. But there are a number of broad factors that consistently influence how frequently a car should have its transmission serviced.
The first consideration is the type of climate in which the vehicle is being driven. Hotter average temperatures will place more strain on the transmission and its parts. For this reason, people living in hotter climates should have their transmissions serviced more frequently than those living in colder climates.
Another factor is the kind of driving that is typically being carried out by the car's owner. Those using their vehicles primarily for work-related purposes, especially when towing heavy trailers or carrying heavy loads, may need to have their transmissions serviced with more frequency that those who are engaged in light use of their vehicles.
Finally, the kind of transmission itself is a key factor in determining how often the transmission should be serviced. As a rule, manual transmissions are far more durable and require less maintenance than automatic transmissions. Modern transmissions that use sophisticated electronics and mechanics may need to be serviced even more frequently. This is true with continuously variable transmissions, which can generate more friction that traditional automatics.
Should I change my transmission fluid myself?

Changing transmission fluid is a difficult and dangerous job. Unlike simply changing out oil from a car, changing the transmission fluid usually requires that the car be lifted into the air with the engine running and the vehicle in neutral. All this must typically occur while a person is working underneath the car, making changing transmission fluid a uniquely dangerous job.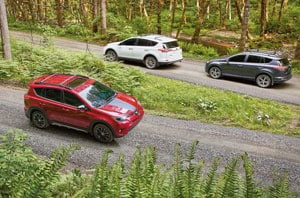 On top of that, our dealership has trained technicians with decades on the job and highly sophisticated tools that allow them to catch tiny defects within the transmission before they have an opportunity to grow into catastrophic failures. For this reason, it is many times better to allow the professionals at Kenny Kent Toyota to handle the servicing of your transmission.