Your eyes have not deceived you. The 2019 Toyota RAV4 is bigger than you imagined. This once compact SUV can now be classified as a midsize truck that can comfortably fit several adults in its backseat. >
Dimensions of the 2019 RAV4
Many are comparing the 2019 RAV4 to the 2001 Toyota Highlander when it comes to size. It is true that the RAV4 is slightly larger in width than the 2001 Highlander (73 inches) and height (66.9 inches), it's a little smaller in length: with a wheelbase of 105.9 inches and a length of 181.1 inches, compared to a Highlander wheelbase of 106.9 inches and length of 184.4 inches . Regardless of its slightly smaller wheel space and overall exterior length, the 2019 RAV4 is just big enough to fit up to three adults in its backseat. How's that for a modern-day compact SUV?
How did the RAV4 get so big?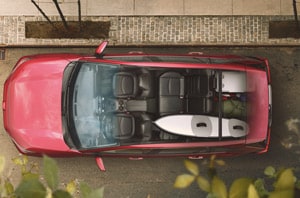 Part of the reason why the 2019 RAV4 is noticeably larger is due to Toyota's decision to move the SUV to its TNGA-midsize platform. The RAV4 was previously part of the Corolla platform, which explains the smaller size of the earlier generations. This year's RAV4 takes on a bulkiness similar to the new Camry or Prius.
Of course, it is not abnormal for cars and trucks to evolve with the times. In fact, the auto industry recognizes this transition as "segment creep." Still, it's pretty interesting to look back on the earlier days of the RAV4 and compare it to the current model year.
Stop by Kenny Kent Toyota to get a full look at the 2019 Toyota RAV4 and to test drive one today!